Follow us!
Best Friends


The backlash
0 %
Play many more exclusive sex games in our premium zone!
Can't load the game? Try to disable your adblocker!
Play online multiplayer strip-poker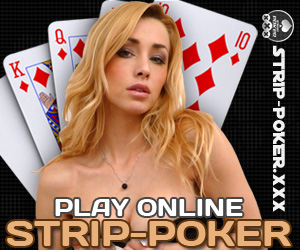 In this new episode, Ivan has to take responsibility for his actions… Valerie stuck to her commitments, and now she wants him to do so! He will have to keep a low profile around his colleagues and may-be it's now time to learn to be more flexible with the customers...
This tenth episode of our serie of massage games!
Ad

related games
9 Comments

Diospyro
08/11/2016 1 year ago
who is Claudia, pls?

Trucabulle @Diospyro
04/12/2018 10 days ago
Koni Demiko aka Lara

dreamer_anyway
06/27/2016 1 year ago
Does someone know who is Valerie ?

dave31 @dreamer_anyway
06/29/2016 1 year ago
Lupe Burnett Aliases: Francheska Cote, Avina Delis, Megan Vale, Agata Fire

ulrich1707
06/25/2016 1 year ago
Who is Victoria?
Please can anyone help me?

dave31 @ulrich1707
06/27/2016 1 year ago
Victoria is Kate Shira, (Kate Pink, Louise Hart, Louise)

Pistolas
06/25/2016 1 year ago
Thats a straight 5* game .. Well done guys

Marlene [admin] @Pistolas
06/25/2016 1 year ago
Thank you!

BluesRyno
06/24/2016 1 year ago
100%

Phone call with Valerie:

[Click green button]
Is that you, sweetheart?
I know who you are...You played a dirty trick on my colleague.
Very.
Yes, and something severe.
You deserve to be tied up and gagged!
{Next}
(You call that a punishment??)
I could use a toy on you...
(But that wouldn't be all...)
(Wait! It goes on!)
(But you deserve worse than that.)
(You are right I would like to see your breasts at the same time.)
(Yes and to finish, I would pull you away so you could show me your piercing.)
(So, I hope that you've understood!)
(Until next time...)
{Next}
{Next}

Ivan bored at the computer:

{Next}
{Next}
[Click Computer Monitor in top left corner]
[Click "Suzi selfies"]
{Next}
{Next}
{Next}
{Next}
{Next}
[Click video icon with lock]
- Call Patrick -
{Next}
Hi, am I disturbing you?
(I would like your password for the videos folder which is on the computer.)
No problem. So, this password?
A video of Suzi in the shower?
(Excellent, thank you!)
(Don't worry!)
Next
Next
- Keep watching -
- Keep watching -
- Keep watching -
- Keep watching -
- Keep watching -
(- Look at the time - )

Appointment with Victoria:

{Next}
{Next}
Sorry, something came up for Ivan... but I can replace him if you're comfortable with that!
I will be very careful.
My massages aren't as hard as people say...
I understand... but there is a heart beating underneath this mass of muscles.
There too, I must admit! I am a man, after all... and I've been fantasising about you for some time...
I'm too shy to say. Roughly speaking, it's like now... but more extensive...
Alright. You can always stop me if I'm going too far.
(OK... but trust me, it will be excellent!)
(Let it happen, relax!)
{Next}
(Let yourself go...)
{Next}
(Alright...)
{Next}
(But of course...)

Ivan Daydreaming:

{Next}
{Next}
{Next}
- Remember -
{Next}
{Next}
{Next}
- Move to face level -
(I want to fuck you in the ass...)
(But of course!)
(We can try...)
{Next}
{Next}

Last minute appointment:


[Click green button]
(Indeed you are. What can I do for you?)
But of course!
No Problem. See you very soon!
{Next}
No problem. But I warn you, I'm a masseur and not a physiotherapist!
And what is the difference between the two, according to you?
I'm beginning to understand.
The friend who recommended you talked to you of many of my talents.
Stop playing around with me... I know perfectly well who sent you and why!
It's Carla who talked to you about my huge dick.
(Yes, get ready...)
Let's see what I can do for this emergency...
(I think I need tot examine your ass more closely...)
(OK...)
(Of course, don't move...)
(OK)
{Next}
{Next}
(Have a nice day!)

More Friends