Follow us!
Best Friends


Behind the doors
0 %
Play many more exclusive sex games in our premium zone!
Sorry, this game is for premium members only!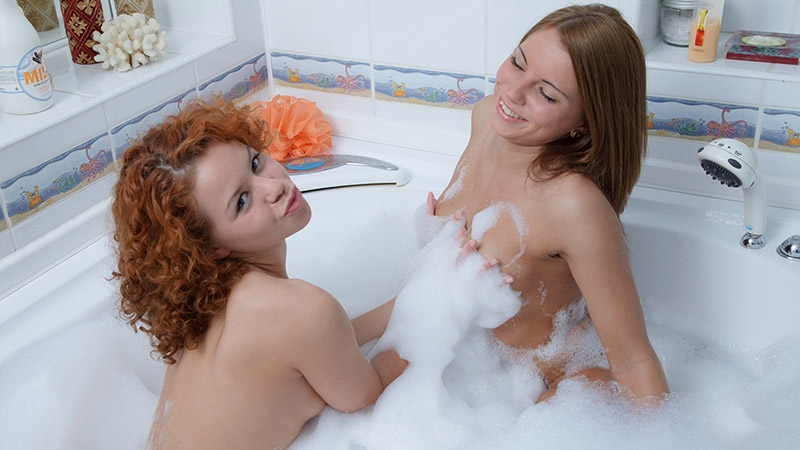 It's time to sneak a bit backstage… What happens in the massage institute, outside of the rooms? After a naughty massage session, customers often use the bathroom but what happens when they accidentally meet? In the corridors of the institute, hidden behind the doors, you will see how relationships grow between team members and customers...
The eleventh episode of our serie of massage sex games!
Ad

related games
9 Comments

Grifter2105
07/23/2016 1 year ago
100%

Valerie:
Hello! Is it for a freshness massage?
Sorry, no ... I don't have a good memory for faces.
I remember, yes. Well I'm listening. What can I do for you?
It's all in the name. I recommend it. Are you tempted?
The thing is: do you want something more relaxing or more invigorating?
It would be better to decide now ... so I can prepare the right oils, etc.
Do not worry about it! It was just a misunderstanding ...
If you like, we can talk about it. But first, a freshness massage!
Ok, go and make yourself comfortable. I'll join you soon.
NEXT
So where were we? You work in insurance, right?
... Yes, Ican see that. You are very tense!
Yes, this particular oil we can even use on the genitals.
Yes, it'sinteresting! Despite the mint, is very gentle.
I think so, yes ... It's gel, it's also for oral use...
No problem!
NEXT
I'll let you try!
OK!
NEXT
NEXT
NEXT
No Problem! At the end of the hall on the left, I'll show you.
NEXT
NEXT
NEXT

Bathroom Valerie + Maud:
Sorry, am I disturbing you?
Valerie, nice to meet you!
I love this salon! Do you come here often?
And do you meet nice people?
The customers!
OK! Here goes!
Shall we compare out asses?
Take your panties off! I want to see it!
NEXT
Are you having a laugh? I've been watching it since the beginning!
I do shave my pussy and you don't. Is this it?
NEXT
Click showerhead.
That might not be too bad...
Click on yellow rubber duck.
What ever, that's giving me ideas!
Click on pink dildo (in the mirror).
Shut up! I don't want them to show up...
I want to keep looking at your breasts.
Yes of course!
NEXT
Mmm why not?
Ok!
NEXT
OK!
Stick a toy inside me...
OK
No problem.
Click the giant dildo.
NEXT
Me too! Let's go, I'm getting out, I don't want to ruin my skin.
NEXT
NEXT

In the hallway:
Click on the first door handle on the left.
-Gently close the door again-
-Go see next door-
-Look through the keyhole-
-There's no-one there! Start checking it out again-
-There's no-one there! Start chekcing it out again-
-There's no-one there! Keep checking it out.-
-There's no-one there! Keep checking it out.-
-Fuck it! Keep checking it out.-
-Rush outside-
NEXT

Ivan with Severine:
NEXT
NEXT
What have you done to hurt yourself there, Severine, I wonder?
I would say there are many factors combined.
The everyday life of a working woman and the evenings of a single party gal.
We're not continuing with the guessing game?
But please...
That's really generous of you.
What excuse? I don't see the problem, it was most likely the truth.
Nonsense. Your chicken must have been delicious and this guy was really on night shift.
I can tell you that sometimes I would like to be reassured too...
No joke...I somethimes get the impression that I'm just a good friend and nothing else ...
The kind of guy who you invite over for dinner!
NEXT
Turn over...
OK...
OK...
No problem, it's at the end of the hall!
I think so, yes!
NEXT

lienjj
07/22/2016 1 year ago
Good game, thanks.

Marlene [admin] @lienjj
07/23/2016 1 year ago
Thank you!

pulsar05
07/22/2016 1 year ago
Go in the french version, the answer is there !

Have fun ;)

Niflandrir
07/22/2016 1 year ago
I could use some help :D

hitman23
07/21/2016 1 year ago
FIGURED IT OUT

jlynley2002 @hitman23
07/22/2016 1 year ago
need help

hitman23
07/21/2016 1 year ago
IM STUCK AT 77 IM NOT AS SMART AS YOU

Mssalia
07/21/2016 1 year ago
I'm the first one play. Easyyyyy

More Friends