Follow us!
Best Friends


Adult game of sexy poker
0 %
Play many more exclusive sex games in our premium zone!
Can't load the game? Try to disable your adblocker!
Play online multiplayer strip-poker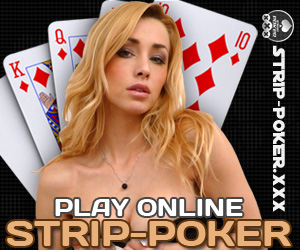 A good old straight strip poker with pictures of sexy players. Nothing revolutionary here, you get youre cards, you bet, you change your cards and, if you feel lucky enough and you've got at least a decent pair, you bet as much as you can hopping she doesn't have a better hand than you.
A strip poker game with sexy pictures of your opponents (you can choose one between three of them). It's a straight poker
Ad

related games
1 Comments

Xrayxx
08/23/2013 4 years ago
Lisa is the sexiest porn star there is! Love her everything including her her smile and lovelysmiling eyes. I would like to play with her all day.

More Friends