Follow us!
Best Friends


Poker, domination and strip-tease
0 %
Play many more exclusive sex games in our premium zone!
Can't load the game? Try to disable your adblocker!
Play online multiplayer strip-poker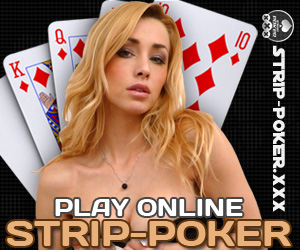 This strip poker game is quite easy. You play against two slave sexy girls. While earning money by being clever and lucky, you'll be able to trade your earnings against the girls clothes. If you manage to strip them naked and to still have $500, you'll be able to see the naughty bonus scene. It's a bondage domination sequence where both girls ride a very special bike together.
You have to win this online strip poker game to be able to get rid of the clothes of the two girls. If you manage to have $500 while they are both naked, you unlock the bonus scene. If you like poker and other casino games in a strip version, have a look on Strip Poker with Chloe or Strip Poker with Eve.
Ad

related games
1 Comments

1198515402
02/05/2015 3 years ago
good!!I like this game!

More Friends