Follow us!
Best Friends


Poker fun with Jessie
0 %
Play many more exclusive sex games in our premium zone!
Can't load the game? Try to disable your adblocker!
Play online multiplayer strip-poker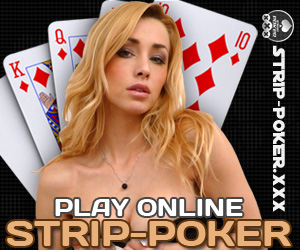 This flash game offers you to play with the gorgeous Jessie Jazz in a five-cards draw poker where the looser has to strip. Bet and change your cards wisely to stay in the game and to watch Jessie please herself naked.
If you're having a hard time playing, do not forget that good poker players usually play very few hands: knowing the odds is the key to win this game.
Ad

related games
2 Comments

Jimmy4812
03/29/2017 1 year ago
Why the game does not load ?

Playman
03/14/2016 2 years ago
how about this:

1. Have the girls who just basically strip be free and add girls that use the dildo to real orgasms for premium members
2. For premium members have more talking and flirting
3. For premium members use full screen so we can get a closer look at the hot girls.

Whatya think?

More Friends