Follow us!
Best Friends


What about a little poker with a hot chick from Czech Republic?
0 %
Play many more exclusive sex games in our premium zone!
Can't load the game? Try to disable your adblocker!
Play online multiplayer strip-poker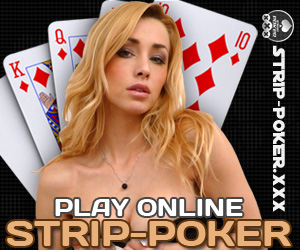 For those who don't know her yet, Bailey Ryder aka Bailey Teen is a sweet and cute Czech brunette. She's wearing a sexy white dress that she might take off if you play your cards right. After, you know the rules, you can bluff or do whatever you want until you manage to steal her chips and if you beat this lovely girl at our home made strip poker game, she'll do a show with her big dildo just for you.
If you want to stand a chance to see everything Bailey has to offer, don't get caught bluffing! Like always with the strip poker video games we create for you, you discover interactive video of the girl playing. If you think you can play poker like the pros, you can even give her some chips to see very special sexy clips!
Ad

related games
0 Comments

More Friends